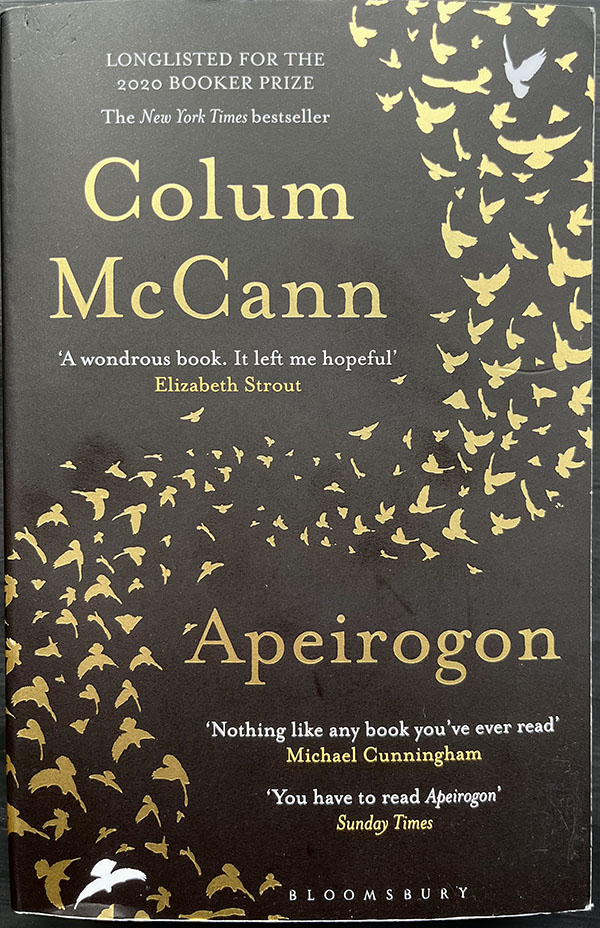 I recommend everyone read Colum McCann's book Aperiogon. It's extraordinary. I agree with all three quotes on the cover of the copy I have:
Nothing like any book you've ever read. — Michael Cunningham
A wonderous book. It left me hopeful. — Elizabeth Strout
You have to read Apeirogon — Sunday Times
Inside, it calls itself Apeirogon: A Novel, which is interesting because if it hadn't described itself thus I would probably called it a work a fictionalized account or a faction. For the two main characters in the "novel" are real people, Rami Elhanan, an Israeli Jew, and Bassam Aramin, a Palestianian Arab, each of whom had a daughter killed in the Arab-Israeli conflict, but who became friends and campaigners for peace and equality. Despite being harrowing in parts, the book is uplifting because of the reaction of these two men to their terrible losses.
The book's structure is unusual—essentially a thousand short numbered chunks ranging from a few words to a few paragraphs—often at best loosely connected, random-seeming, but almost always interesting, In the middle are two longer sections, transcripts "pulled together" from interviews with Rami and Bassam. As excellent as the rest of the book is, these sections are even more amazing, particularly the first one, from Rami Elhanan.
There are many videos of Rami and Bassam available online, easily found with a web search on their names; I have watched a few and will watch more.
A hopeful book in dark times.